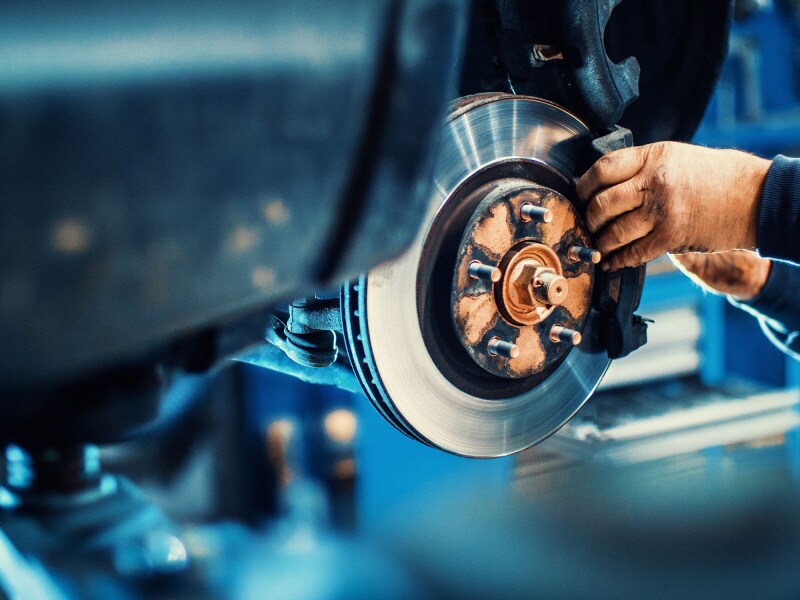 Ensuring your brakes are in proper working order is one of the four main aspects to maintaining a safe Nissan. Here in Maine, your brakes are hugely important as stopping and slowing effectively during the winter months becomes critical. Don't worry though; Nissan brake work in the Greater Auburn area has never been easier.
It is important to watch for any signs that your Nissan may be slowing during breaking or if there any strange squeaks or noises. This is a possible sign that your breaks may not be functioning at their peak. At Lee Nissan in Auburn our certified Nissan Technicians will perform a full brake inspection to see if your Nissan may need new brake pads or calipers or perhaps even a minor adjustment or calibration. 
If you're in the Lewiston Auburn area and in need of brake repair or replacement for your Nissan, Lee Nissan is the best choice for quality service. Here are some reasons why you should choose Lee Nissan for your brake repair needs.
Certified Nissan Technicians
At Lee Nissan, we have a team of certified Nissan technicians who are experts in brake repair for all Nissan models. They have extensive training and experience in diagnosing and repairing brake issues, so you can trust that your Nissan is in good hands.
Genuine Nissan Parts
When you bring your Nissan to Lee Nissan for brake repair, we only use genuine Nissan parts. These parts are specifically designed for your Nissan and meet the highest standards for quality and performance. By using genuine Nissan parts, we ensure that your brakes will function properly and provide optimal safety and performance.
Competitive Pricing
At Lee Nissan, we understand that brake repair can be expensive. That is why we offer competitive pricing for our services, so you can get the high-quality brake repair you need without breaking the bank. Additionally, we frequently offer service specials and discounts to help you save even more.
Our dealership is conveniently located in Auburn, making it easy for nearby residents to access our brake repair services.
State-of-the-Art Facility
Our state-of-the-art facility is equipped with the latest diagnostic and repair equipment, allowing us to quickly and accurately diagnose and repair brake issues. Additionally, our waiting area is comfortable and equipped with amenities like complimentary coffee and Wi-Fi, so you can relax while we take care of your Nissan's brake repair needs.
When it comes to brake repair for your Nissan, there's no better choice than Lee Nissan. With our certified technicians, genuine Nissan parts, competitive pricing, convenient location and hours, and state-of-the-art facility, you can trust that your Nissan is in good hands. So, if you need brake repair for your Nissan, schedule an appointment with Lee Nissan today.
Break Inspection
Our brake service and inspections include:
Four wheel inspection of brake pads rotors for wear, calipers, master cylinder and your parking brake system for any signs of wear or binding.